Roar Rampage is an arcade beat'em up game released on April 19, 2012 . The game centres around a Green Dino trying to rescue his kidnapped son. The player will destroy buildings and fight enemies with the green dinosaur. It has been claimed to be "the best of all games", even before its release.[1]
A second version of Roar Rampage was released on April 23, 2012 that had a new weapon, a new power up and a new enemy, a form of the old enemy with an additional attack. Following that was the release of Roar Rampage iOS on February 4, 2013.
---
Left and Right arrow keys or A and D- move
or A and D
Mouse- Move boxing glove click and drag to use objects as weapons. If the player selects to move with the mouse the mouse will also move the player forward and back depending on which direction the player moves it as well as punching.
This section is incomplete. You can help Neutronized Wiki by adding missing info.
Roar Rampage has fifteen levels.
This navigational box contains a

spoiler

. Click [Expand] to open.

---


the ending depicts the green dinosaur smiling and holding his son. Behind the green dinosaur is a blue sky with a few white clouds visible and near the bottom of the picture is a small mountain.
All enemies, once destroyed, may drop pickups or power ups.
Spikes - These are found attached to walls and touching one will lower the green dinosaur's health. To get rid of them the green dinosaur must break the area it is attached to and it will fall of the screen.
Changing boxes - These are found embedded in walls and the picture on them will change from a x to a check mark. If the green dinosaur punches a changing box when a x is on it, that box will explode and send out three balls that will explode and send a wave of bullets at the green dinosaur. If punched when there is a check mark on the changing box, the changing box will explode and not send out a hazard.
Enemy attacks - Enemy attacks come in five different types and the amount of damage they do differs.
Interactive objects
Edit
March 8, 2012
Edit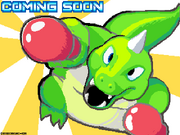 Concept art of Roar Rampage was first released on Neutronized's blog on March 8, 2012. The picture showed a close bird's eye view of the dinosaur against a background that read, "Coming soon!" News was also released that the final boss was being programmed.
[2]
March 29, 2012
Edit
Twenty one days later, a video preview of the game was released. It provided more insight into the story, gameplay and revealing the game's name - Roar Rampage.
Roar Rampage has similarities to the arcade game, Rampage.

They both have giant creatures who destroy buildings as their main characters.
They both have the army attacking the main character.
They both have the word "rampage" in their names.
The green dinosaur also bears a resemblance to one of the main characters in Rampage, Lizzie. (Lizzie is also a giant green Godzilla-like dinosaur/lizard)

The destruction engine from Roar Rampage is designed with inspiration from the engine used in the Nitrome release Rubble Trouble.[3]
Roar Rampage was featured on Nitrome's Pixel Love blog section on June 4, 2012.
One of the weapon objects, a rocket, can no longer be found in the latest version of Roar Rampage for unknown reasons.
References
Edit
Roar Rampage

General
Enemies
Interactive objects
Hazards
Bosses