Snow Tale is a winter platform-adventure game that was released on January 24, 2012. It is known to be a mix between Liquid Kids and Super Mario.[1] The player controls a penguin on a journey through a winter land.
Controls
Left and right arrow keys - Move

Tap twice quickly to roll

Up arrow key - Jump

Tap twice quickly to double jump

Up arrow key then down arrow key - Perform a ground pound
Space bar - Throw a snowball
Levels
Snow Tale has fifteen levels.
Ending
This navigational box contains a spoiler. Click [show] to open the box.


The ending depicts the penguin smiling and standing in front of a house. A caption below says "You have completed your journey!"
Enemies
To destroy any enemy in Snow Tale the player needs to freeze that enemy with a snowball and kick them into a object or kick a frozen enemy into the enemy the player wants to kill.
Hazards
Interactive objects
Pickups
Ice cream - These are always dropped be enemies and appear in many different forms the grant different points.
Gems - These grant 50 points when touched.
Previews
December 5, 2011
The winter game was first previewed through an image of sketches on the Neutronized blog. It revealed some of the basic controls and characters for Snow Tale, as seen below.
January 5, 2012
After a month of waiting, Neutronized released another preview image of Snow Tale. It appeared to be almost finished in development.
January 19, 2012
On January 19, 2012, a trailer for the game was released, finally mentioning the name, Snow Tale. This revealed more of the basic mechanism used in the game as well as some of the pickups and enemies.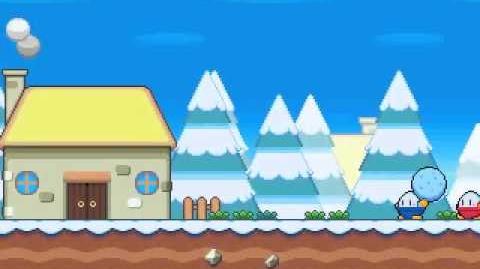 References
Community content is available under
CC-BY-SA
unless otherwise noted.